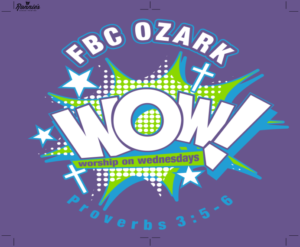 ALL ABOUT WOW
What?
Worship On Wednesdays. Children will have class with others in their grade to learn all about Jesus and how his life, death, and resurrection can forever change us.
Who?
Kids ages 4 years old through 6th grade students.
When?
Wednesdays during the school year (starting first Wednesday after Labor Day) from 6-7pm
Where?
Kids will meet in the children's Ark Room and finish the night in the Sanctuary.
Why?
We are all about making and maturing disciples of Jesus for the glory of God. We believe this process can start now for your kids!
Motto
Learning About God
Using the Bible
Living for Jesus
Curriculum
We use a curriculum from Answers in Genesis. This program encourages our kids to learn
Bible stories, memorize scripture, apply what they've learned to their own lives, and worship God. Our hope is that they will become a disciple of Jesus (by believing in Him and trusting Him with their life) and then mature as a disciple by becoming more like Jesus.
In addition to our regular WOW time, we often do one-to-one or small group discipleship for the kids who show a desire to become a follower of Jesus and become more like him.
Missions
Part of becoming a mature disciple is learning how to serve others in Jesus' name. Our various mission opportunities for kids help them to see that we value serving others:
Operation Christmas Child
Children bring items for the shoebox ministry and help fill boxes that are sent across the world. The kids pray over each box. These boxes are filled with toys, toiletries, school supplies and the Gospel of Christ in the children's own language.
Canned Food Drive
Late October or early November we encourage our kids to bring canned and nonperishable to give to our Church's
Gift of Love Food baskets that we provide for others during the holidays.
Camp Scholarships
We take up offering at WOW to encourage children to give. All the offering goes toward giving camp scholarships to kids wouldn't be able to attend camp otherwise. In 2019, we were able to send 4 kids to camp with this ministry!
Adopt-A-Family
WOW adopts families (or individual children) during the holidays to ensure they have a Merry Christmas.